Still reeling from the loss of "Game of Thrones?"
I've recovered more easily than expected, likely from a combination of my dissatisfaction with the final stretch of episodes and the excitement I'm feeling about three upcoming summer arrivals: The third seasons of Netflix's "Stranger Things" and "GLOW" and the revival of "Veronica Mars," one of my all-time favorite series.
"Stranger Things" and "Veronica Mars" launch in July, followed by "GLOW" in early August.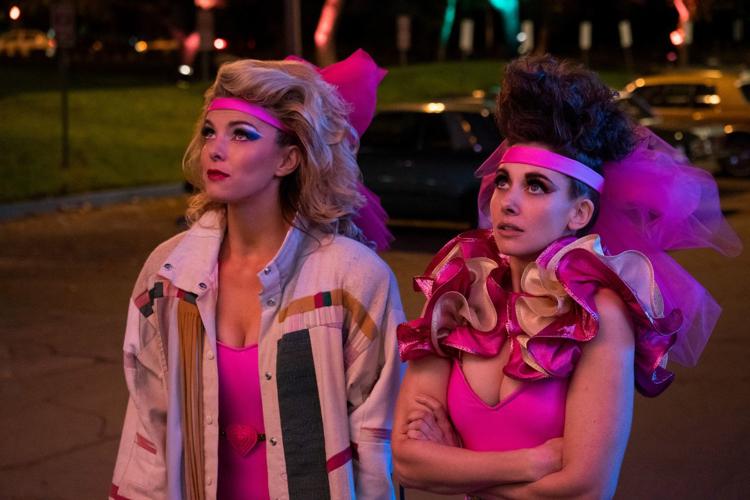 Other high-profile returns include HBO's "Big Little Lies" and a "Deadwood" movie, Hulu's "The Handmaid's Tale" and Netflix's "Black Mirror," alongside new series ranging from the supernatural horror of AMC's "NOS4A2" to the absurd comedy of HBO's Fred Armisen-produced "Los Espookys."
Here's what airs when:
Already premiered
– "When They See Us" (Netflix, streaming): Created by Ava DuVernay ("A Wrinkle in Time"), this limited series is based on the story of the Central Park Five, five teenagers of color who were convicted of a rape they did not commit. It begins in 1989, when they were first questioned about the attack, and covers 25 years to include their 2002 exoneration and a settlement they reached with the city of New York in 2014.
Stars include Michael K. Williams ("The Wire"), Vera Farmiga ("Bates Motel"), John Leguizamo, Felicity Huffman, Blair Underwood and Niecy Nash.
– "Songland" (10 p.m. ET, 9 CT, Tuesdays, NBC): A new competition series that finds undiscovered songwriters pitching their original tunes to music producers and a revolving door of musicians including John Legend, Meghan Trainor, Old Dominion, will.i.am, Jonas Brothers, Kelsea Ballerini and Leona Lewis. Each week, a different winner is announced, and his or her song will be recorded and released by the episode's featured musician.
– "The InBetween" (10 p.m. ET, 9 CT, Wednesdays, NBC): A woman who has visions of events that have either already occurred or will in the future and who sometimes "encounters unsettled spirits who need her help" uses her abilities to solve crimes.
– "American Princess" (9 p.m. ET, 8 CT, Sundays, Lifetime): An Upper East Side socialite joins a Renaissance faire after fleeing her own wedding in this comedy from co-creator Jenji Kohan ("Weeds," "Orange is the New Black").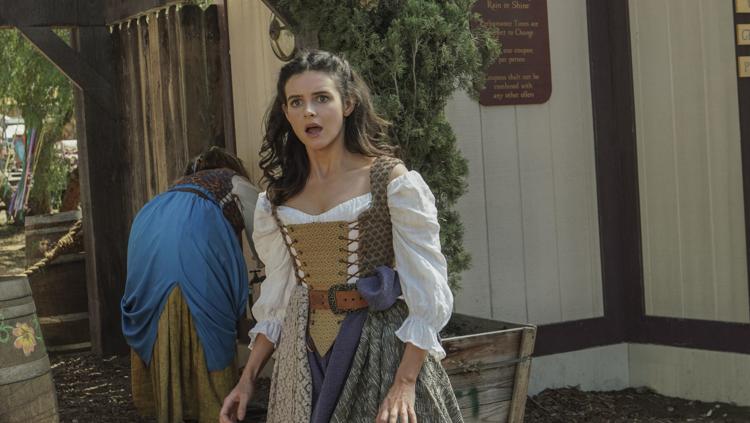 – "NOS4A2" (10 p.m. ET, 9 CT, Sundays, AMC): The supernatural horror series is based on a 2013 novel of the same name written by Joe Hill, son of horror master Stephen King. The title is pronounced Nosferatu which, in case you're unfamiliar, also happens to be the name of a 1922 silent horror film about a vampire.
The series follows a woman who discovers she has the ability to find lost things, which eventually pits her against "the evil and immortal" villain Charlie Manx (Zachary Quinto, "Heroes") who is, I'm guessing, a vampire?
– "Good Omens" (Amazon Prime, streaming): An angel (Michael Sheen) and a demon (David Tennant) team up to prevent the Apocalypse. Based upon a novel written by Terry Pratchett and Neil Gaiman.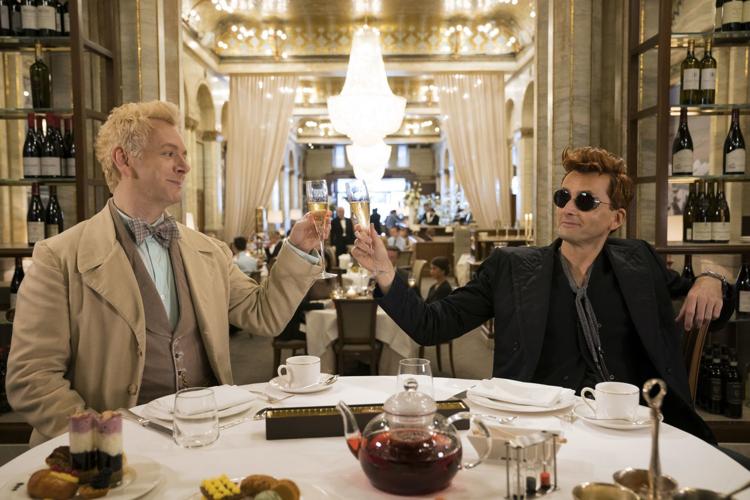 – "The Weekly" (10 p.m. ET, 9 CT Sundays, FX): Each episode follows a New York Times journalist as they investigate "pressing issues of the day."
– "Deadwood: The Movie" (HBO): The movie, reuniting original series stars Timothy Olyphant, Ian McShane, Anna Gunn, Robin Weigert, Kim Dickens, Molly Parker, John Hawkes, Gerald McRaney and more, aired last week, but is still available via OnDemand if you're a subscriber.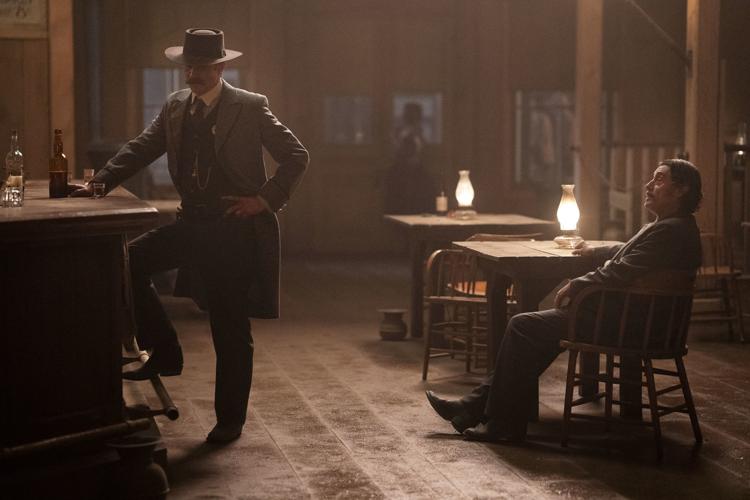 Wednesday, June 5
– "The Handmaid's Tale" starts streaming its third season on Hulu, while the fifth season of "Black Mirror" launches on Netflix. Over on regular TV, Freeform's "black-ish" spinoff "grown-ish" returns at 8 p.m. ET, 7 CT.
Friday, June 7
– "The Big Stage" (9 p.m. ET, 8 CT, The CW): The non-competitive series highlights performers from around the world. Think singers, jugglers, ventriloquists, quick-change artists, stand-up comics, acrobats and more.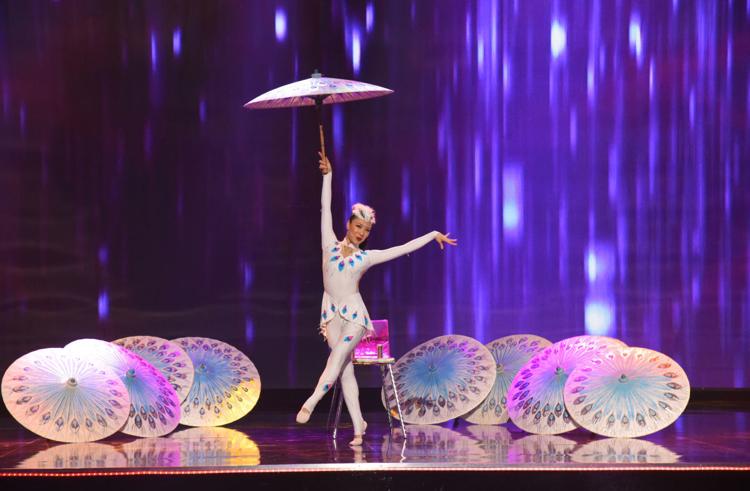 – "The Chef Show" (Netflix, streaming): Actor/director Jon Favreau and chef Roy Choi cook, travel and collaborate with guests ranging from Gwyneth Paltrow, Robert Downey, Jr. and other "Avengers" cast members to barbecue pitmaster Aaron Franklin.
– "Designated Survivor," which stars Kiefer Sutherland as a cabinet member who ascends to the presidency after a terrorist attack, moves from ABC to Netflix for its third season
Sunday, June 9
– "Big Little Lies" returns to HBO at 10 p.m. ET, 9 CT. This season follows returning stars Reese Witherspoon, Nicole Kidman, Shailene Woodley, Zoe Kravitz and Laura Dern as their characters deal with the aftermath of a murder in season one. Oh and did I mention Meryl Streep, in her first TV role, is joining the cast? Appointment TV!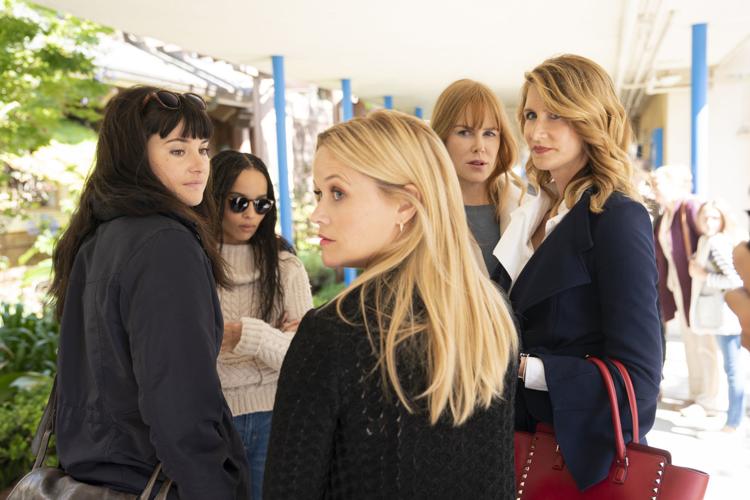 Wednesday, June 12
– ABC introduces two revived game shows — "Press Your Luck," hosted by Elizabeth Banks (8 p.m. ET, 7 CT), and "Card Sharks," with Joel McHale (9 p.m. ET, 8 CT) — while Fox debuts "First Responders Live" (9 p.m. ET, 8 CT), which documents a night in the life of firefighters, police officers, EMS technicians and first responders via cameras embedded with them in multiple cities across the country.
Thursday, June 13
– "MTV's The Real World" (Facebook Watch, streaming): The original reality series returns, this time set in Atlanta and airing on Facebook's video-on-demand service.
Friday, June 14
– "Too Old to Die Young" (Amazon Prime, streaming): A Los Angeles County Sheriff's Deputy (Miles Teller, "Whiplash") is "forced into a deadly underground of Cartel soldiers, Yakuza assassins and mysterious vigilantes" after he's involved in a shooting.
– "Los Espookys" (11 p.m. ET, 10 CT, HBO): Fred Armisen and Lorne Michaels are among the creators of this primarily Spanish-language show about a group of friends who turn their passion for horror films into a business scaring people.
– "Jessica Jones" returns to Netflix for its third and final season.
Sunday, June 16
– "The Good Fight" (9 p.m. ET, 8 CT, CBS): The first season of "The Good Wife" spin-off, which has been airing on the network's streaming arm, will be shown on CBS this summer.
– "City on a Hill" (9 p.m. ET, 8 CT, Showtime): The crime drama, set in 1990s Boston, is about an assistant D.A. (Aldis Hodge, TNT's "Leverage") and a corrupt FBI agent (Kevin Bacon) who work together to clean up the city, then "rife with violent criminals emboldened by local law enforcement agencies in which corruption and racism was the norm." Ben Affleck and Matt Damon, Beantown's favorite sons, are among the series' producers.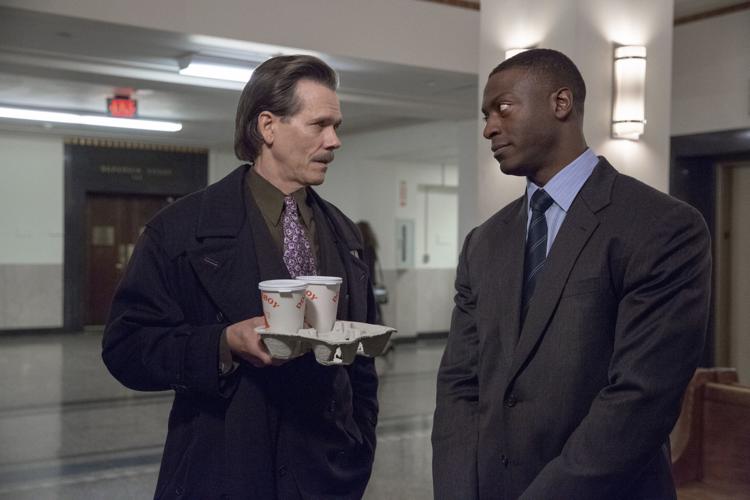 – "Euphoria" (10 p.m. ET, 9 CT, HBO): A coming-of-age tale starring Zendaya ("Spider-Man: Homecoming," "The Greatest Showman") as a teen just out of rehab.
Monday, June 17
– "Grand Hotel" (10 p.m. ET, 9 CT, ABC): A nighttime soap, based on a Spanish telenovela, set at a family-owned hotel in Miami Beach. It stars Oscar nominee Demián Bichir and Roselyn Sanchez ("Devious Maids").
Thursday, June 20
– "Reef Break" (10 p.m. ET, 9 CT, ABC): This one — about a former pro-surfer and thief (Poppy Montgomery, "Without a Trace") who now works as a fixer for the governor of "a stunning and seductive Pacific Island paradise" — sounds silly, but the sunny locales and procedural elements might make it a perfect summer watch.
Sunday, June 30
– "What Just Happened??! With Fred Savage" (9:30 p.m. ET, 8:30 CT, Fox): A spoof of talk shows dedicated to dissecting popular series (think AMC's "Talking Dead," which examines each episode of "The Walking Dead" and its spin-off). Here, the real-life Savage is the host of a fictional after-show for a fictional TV series. Does your head hurt yet?
– "The Loudest Voice" (10 p.m. ET, 9 CT, Showtime): Russell Crowe stars as Roger Ailes in this eight-episode limited series about the Fox News founder's rise and fall. His costars include Sienna Miller as Ailes' wife and Naomi Watts as Gretchen Carlson, whose sexual harassment allegations ultimately brought Ailes down.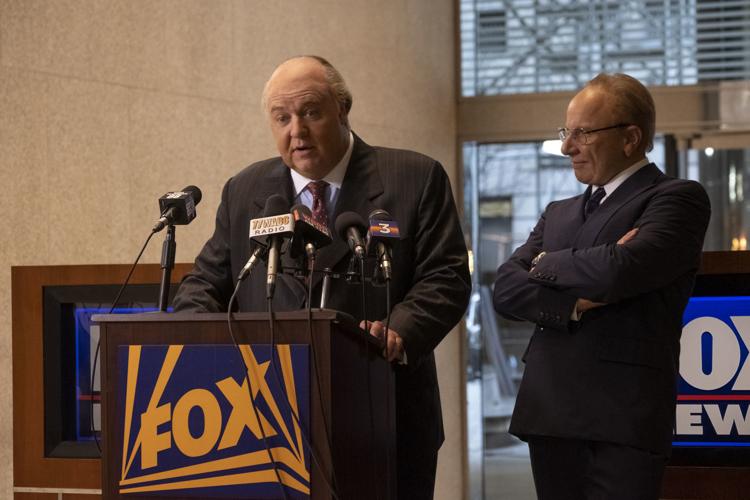 Thursday, July 4
– The third season of "Stranger Things" drops on Netflix. Be there or be square.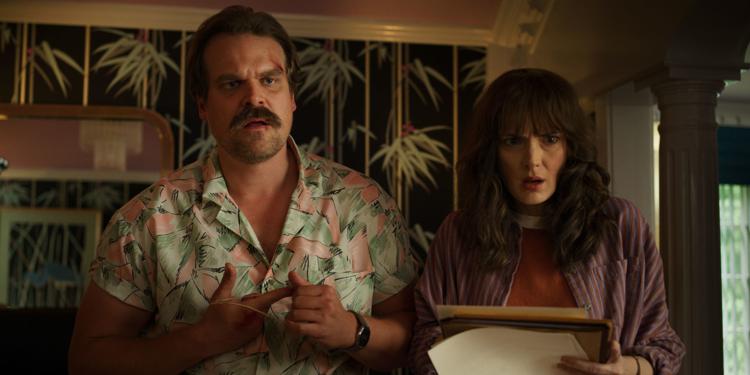 Tuesday, July 9
– "Bring the Funny" (10 p.m. ET, 9 CT, NBC): A comedy competition series judged by Kenan Thompson, Chrissy Teigen and Jeff Foxworthy.
Wednesday, July 17
– "Pearson" (10 p.m. ET, 9 CT, USA): A spin-off of USA's popular series "Suits" focusing on Gina Torres' recently disbarred lawyer Jessica Pearson as she goes to work as a fixer for the mayor of Chicago.
Friday, July 26
– "Veronica Mars" (Hulu, streaming): Star Kristen Bell returns to the role she created 15 years ago. Now in her 30s, Veronica works as a private investigator alongside her dad Keith (Enrico Colantoni) in Neptune, California, and is in a long-term relationship with her on-again/off-again high school love Logan (Jason Dohring). The new season finds her investigating a string of murders of spring breakers vacationing in Neptune.
The series' first three seasons, as well as the 2014 crowd-funded movie, are all streaming on Hulu, so you can start your binge any time now.
– "The Boys" (Amazon Prime, streaming): A secret CIA unit is tasked with policing a group of superheroes who abuse their powers instead of using them for good in this series, based on a graphic novel of the same name.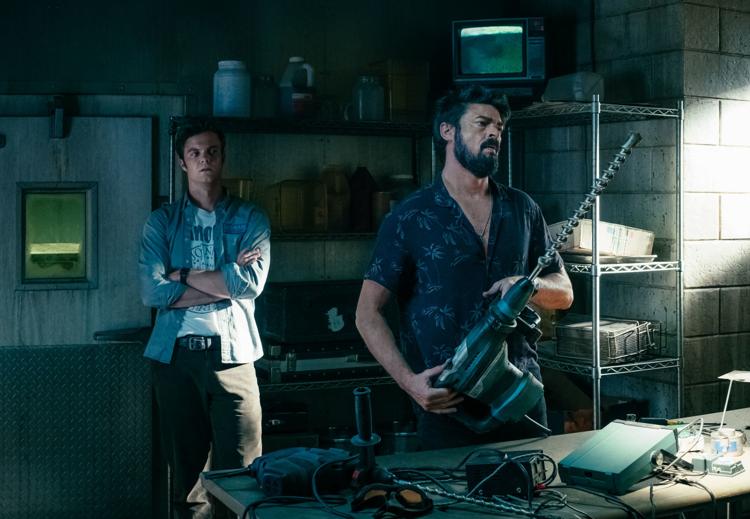 – Netflix's "Orange is the New Black" returns for its seventh and final season.
Wednesday, July 31
– "Four Weddings and a Funeral" (Hulu, streaming): Mindy Kaling is among the creative forces behind this miniseries based on the 1994 romantic comedy starring Hugh Grant and Andie MacDowell. Here, four American friends reunite in London for one of the titular weddings.
Wednesday, Aug. 7
– "BH90210" (9 p.m. ET, 8 CT, Fox): Most of the stars of "Beverly Hills 90210" (minus Luke Perry, who sadly died in March) play exaggerated versions of themselves, trying to reboot the 1990s sensation that turned them all into household names, in this six-episode revival.
Monday, Aug. 12
– "The Terror: Infamy" (9 p.m. ET, 8 CT, AMC): AMC is getting into the anthology game with this second installment. The first, "The Terror," was about two ships trapped in the 1840s Arctic; the new season focuses on a series of bizarre deaths in a Japanese internment camp during World War II and stars George Takei.
Friday, Aug. 30
– "The Dark Crystal: Age of Resistance" (Netflix, streaming): A prequel TV series to Jim Henson's 1982 film focusing on creatures called Geflings, recently described by Entertainment Weekly as a cross between an elf and a Muppet.
The main characters are voiced by Nathalie Emmanuel ("Game of Thrones'" Missandei), Taron Egerton (starring as Elton John right now in "Rocketman") and Anya Taylor-Joy ("Glass," "The Witch"), with other voice talent provided by the likes of Helena Bonham Carter, Mark Hamill, Keegan-Michael Key, Andy Samberg and Jason Isaacs.