RALEIGH — How does a seemingly meaningless Sun Belt Conference football game from the 2015 season relate to N.C. State's offensive success in 2016?
Quite a bit, as Appalachian State's 34-27 victory over South Alabama on Dec. 5 featured two men — Dwayne Ledford and Joe Scelfo — who played key roles as the teams combined to rush for 515 yards.
Now, they'll play major keys in whether the Wolfpack's offense can get moving under first-year offensive coordinator Eliah Drinkwitz.
Ledford, the Wolfpack's new offensive line coach who came to State after four years in a similar role at App State, has his work cut out for him in rebuilding a Wolfpack line that lost three starters, including first-team All-America guard Joe Thuney.
That work got a little easier in April when Scelfo, who started 25 games at center for South Alabama, joined the Wolfpack as a graduate transfer.
Ledford had recruited Scelfo out of high school and got to see him up close twice as South Alabama twice rushed for more than 200 yards against App State — an uncharacteristic total for the Mountaineers' defense.
"We followed Joe … I got to see him every year we were in the Sun Belt and he's a tremendous football player, so we're really happy he's here," Ledford said.
Scelfo, too, had grown to appreciate Ledford's work, where his App State offensive line was graded third in the nation last season by Pro Football Focus' advanced metrics.
"I knew that they were a dominant O-line in the Sun Belt, always had mutual respect for them," Scelfo said. "I've been watching those guys on film for years."
Now, Scelfo is embracing his role as the old — but new — guy on the Wolfpack's offensive line, which returns four players with a combined 29 starts.
"The adjustment went pretty smooth for the most part; its' a different competition level every day in practice, so that took some adjusting and getting used to, but the main thing was getting on the same page as the O-line, and that kind of started in the summer," Scelfo said. "The hardest thing for a center is learning the new offense, but after I got adjusted to that, it feels like I've been here for five years."
Scelfo has quickly become a leader for a group that has fully bought into Ledford's system, which helped App State rank sixth in rushing last season while allowing the fifth-fewest sacks nationally.
With those credentials, plus a seven-year NFL career after his time at East Carolina, Ledford has plenty of credibility.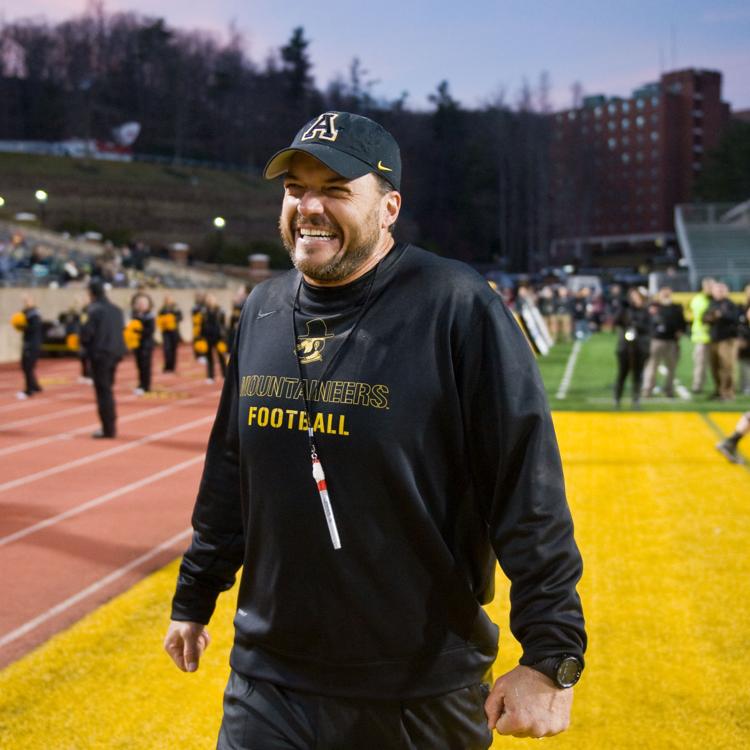 "His demeanor and what he stands for, that's something I really respect and that's what I push myself to be like," Scelfo said. "How he carries himself; he's been in the big situation …. he's played in big college football games, so that's something we can related to pretty well."
Ledford's first priority for the Wolfpack had little to do with the new system or acclimating players to new spots, but instead demanding more physical play.
"You've got to believe in the physicality of what happens up front, and you've got to embrace it and you've got to love it and you've got to enjoy it," Ledford said.
That passion has rubbed off on right guard Tony Adams, who started every game last season for a group that paved the way for the nation's No. 31 rushing offense. While the Wolfpack succeeded with the run, it sometimes struggled in protection, allowing 39 sacks —tied for 113th nationally.
"(That's) something that we tried to push on last year, but he's making it a huge emphasis this year," Adams said. "He's setting our demeanor, going through every day, really coming with your chest out and knowing that you're some bad (guys). That's who we are as an offensive line, building our identity … really coming together as a group."
For that feeling, Adams thanks Ledford and Scelfo.
"Were the closest we've ever been, and we appreciate Coach Ledford for that and we appreciate Joe coming in and helping with that too," Adams said. "We're just coming with some fire this year. We have an amazing group of guys, and this whole group can help us succeed, like, to a crazy level."