Fran Ahlers traveled all the way from Long Island, NY. John Goodbody came down from Ontario, Canada.
They were a part of hundreds who waited in line to meet with the reigning NASCAR champion.
Joey Logano, driver of the No. 22 car, signed autographs and took photos with fans Wednesday afternoon at Walmart at Concord Commons in Concord, sponsored by Coca-Cola Consolidated.
"He is the nicest guy I have ever met," Goodbody said. " I've met him in Martinsville, at Bristol and Michigan. He is so polite. You can talk to him about anything. He is a super person."
Logano, the current points leader, is in town as NASCAR fever takes over the area and Charlotte Motor Speedway for the next two weeks.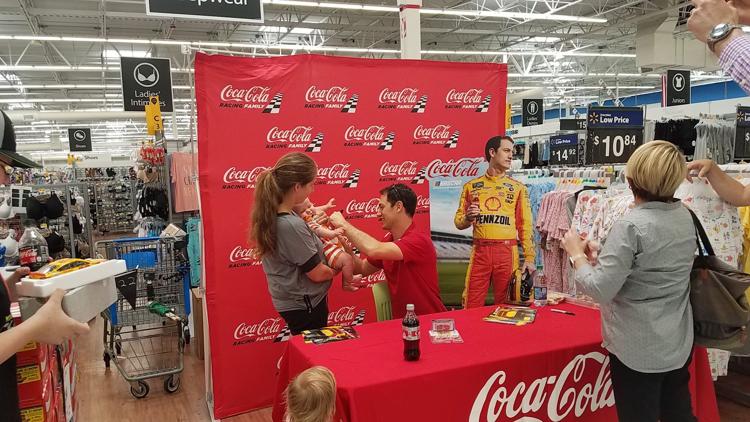 Fans waiting to meet their favorite driver couldn't help but compliment Logano's fan-friendly personality, which sometimes is lacking in professional athletes.
"He gives a lot to charity and he's an all-around nice guy," said Ahlers, who was at Homestead-Miami Speedway in November. "My grandson has special needs and (Joey) does a lot for children with special needs."
After Logano signed autographs, he ran around Walmart grabbing items for Staff Sgt. Josh Hyatt, an Army recruiter who lives in Gastonia, and his family.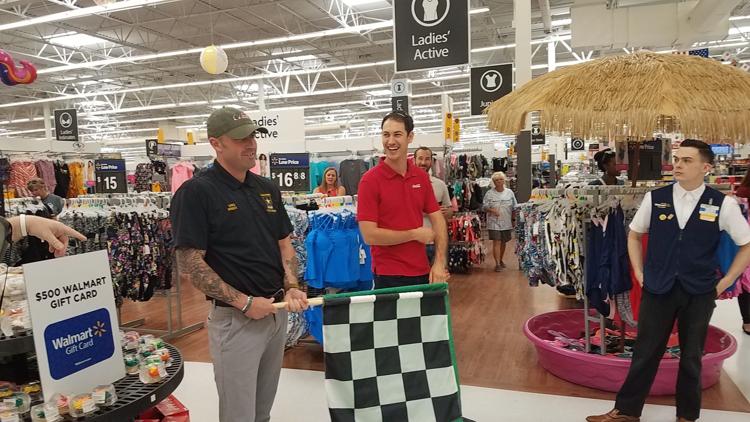 The $2,000 shopping spree was donated through a collaboration from the USO of North Carolina, Logano, Coca-Cola Consolidated and Walmart.
Hyatt, an avid supporter of the USO, has five children and said his wife was diagnosed with breast cancer.
"It's mind-blowing. We've been dealing with a lot of issues," Hyatt said. "We've done a lot of work with the USO North Carolina and the Coca-Cola 600. The fact that they did this for me, it's a blessing."
"He's had a little bit of tragedy in his life with his wife who had a surgery," said USO of North Carolina President John Falkenbury, who is a Concord resident. "We thought that given this is the Coca-Cola 600, we have a great relationship for 78 years with Coca-Cola, we teamed up with Coke and Walmart to award their family a shopping spree with a great race car driver."
Logano said he enjoys meeting and building relationships with his fans, which was evident by the interactions on Wednesday.
He said he's noticed quite a bit more fanfare since he won his first NASCAR championship.
"This is a blast," Logano said. "It's fun to hear their stories and where they come from, and sometimes you meet fans you have met before. It's fun to build those relationships and sign autographs and just thank them for watching our sport."
Since the end of last season, Logano said his schedule has been busy with public appearances, not to mention finding the mentality to attempt a repeat.
He has one win this year, six top-5 finishes and eight top-10 finishes.
"At the end of the season, it was crazy," Logano said. "There were a lot of different appearances and visit a lot of our sponsors' headquarters. My schedule was bananas. Once we got to Daytona (in February), I looked at it like I am a past champion now. Now, it's about winning that championship again."
Logano said he is looking forward to competing for $1 million at this weekend's Monster Energy Cup Series All-Star race at Charlotte Motor Speedway. Then, next week he will attempt to earn his first victory in the Coca-Cola 600.
"They are going to be great races, in my opinion. The All-Star race is always a fun one. You have nothing to lose, plus you have $1 million on the line," Logano said. "Then you have the Coke 600, which is one of the best events in NASCAR, but I have not gotten that one yet. I won the race in the fall, but not the Coca-Cola 600. Coca-Cola has some pretty cool vending machines they give out and I would really like to have one of those, along with the trophy."